Can art and advertising co-exist?
The Live at the Garden posters are strikingly beautiful. I would happily hang each and every single one of these posters in my office. But wait, it's an ad. Ads aren't supposed to be art, right? Yes, ads can be beautiful – but it's a business first. By the time it makes it to print, or on air, it has been significantly watered down by bureaucracy.
Not these ads. These ads are art.
Sam Keasler, an art director with Red Deluxe, an advertising agency in Memphis, figured out how to make it work. To him, art and advertising can work together. "It's great when you can push towards the art. I like to make the logo as small as possible and make it about this big thing that draws the viewer in."
Sam has now created his third round of posters for the Live at the Garden concert series. These promotional posters are designed to be a memento – something people will want to keep.
I consider the 2012 posters to be his most ambitious of the series. Each poster represents a famous song by each of the artists. Bonnie Raitt's poster represents her cover of "Angel from Montgomery." Duran Duran's poster is "Hungry Like the Wolf." Seal's is "Kiss from a Rose." Lynard Skynyrd's is "Free Bird." All of the band posters have an obvious iconic imagery – except for Chicago. I'll let Sam explain, "Chicago was kinda hellish. We finally settled on "25 or 6 to 4."
Because I'm more of a pixel guy, I'm always fascinated by the print process. I learned, after chatting with Sam, that the art of going from screen to screen print takes a little futzing with.
First, you create the art in Photoshop. Then you break down each individual color into separate Photoshop files. For example, one green file and the other brown. In order to get a worn look, you have to weather the art on the front end. Sam says, "Screens are very high quality nowadays. If you want any kind of noise or distortion, you have to do it in Photoshop. Or else, you have to do the screen printing yourself or work with someone you really trust. Screen printing is something that I've always been a big fan of. It has always been my esthetic."
Check out some of the first drafts from 2012.
The 2013 posters were printed with traditional offset printing. The inspiration came straight from the Memphis Botanic Gardens, where the concert takes place. The result landed Sam and his team a national silver Addy award.  Sam notes, "The Victorian stuff was something I picked up in college. For a lack of being able to be an incredible illustrator myself. You can take and manipulate other things."
Early versions from 2013.
This year's poster features a record made from the rings of a tree and a red Gerbera Daisy in place of the needle. Sam says, "The inspiration for this year's poster is old Memphis records and Latin poster design. The type is to resemble liner notes and album art."
In case you're wondering, someone has already figured out how to engineer a record player to play music from the cross-section of a tree. This is what a tree sounds like when you play it.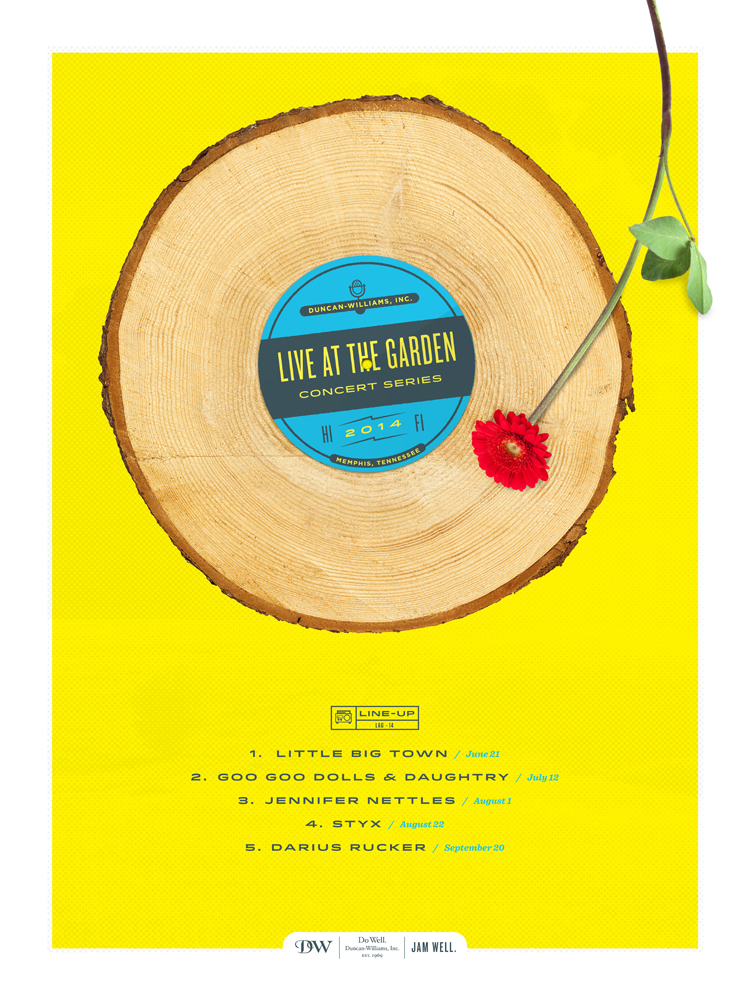 Sam Keasler thought it was time to change the theme this year… but it didn't fly. Check it out.
Sam Keasler and the Red Deluxe team have received some pretty impressive recognition. They have won several national Silver Addys for their Live at the Garden work and will be featured in Communication Arts – Design Annual.
My opinion about art and advertising is evolving. Maybe they can live in harmony. It's a careful dance where the designer has to lead. In order to lead, you have to be one step ahead of the client. Maybe the secret to Sam's dance is that he gets his inspiration from outside the business. "I'm always looking at tons of people's work – more so in the arts than I do in advertising." His major influences are; Tad Carpenter, Sasha Bar, and Mike Perry, among many others.
To see more of Sam Kealser's work, check out his personal portfolio.