Sharon McConnell-Dickerson has devoted the last 14 years of her life, creating lifecasts of some of her closest friends. These friends happen to be some of the most influential blues musicians of our time. Most of them are now gone.
You can hear the blues in rock, soul and in jazz. The music will last forever; but the musicians, that made it legendary, are dying.
If you ask anyone who knows about Sharon's art, they will tell you that she is single handedly preserving the blues in this medium. The lifecasts include a mask of Bobby "Blue" Bland, Little Milton from Memphis, "Honeyboy" Edwards from Chicago, and Pinetop Perkins from Clarksdale, just to name a few – almost 60 musicians total.
You can experience the lifecasts for yourself in the Delta Center for Culture and Learning at Delta State University, Willie Dixon's Blues Heaven Foundation in Chicago, Illonis, and at the upcoming Grammy Museum in Cleveland, Mississippi. Or, at its third permanent exhibit in Cognac, France. Better yet, you can own images of most of the collection in Sharon's new coffee table book titled, "A Cast of Blues: Images and Stories Behind the Masks."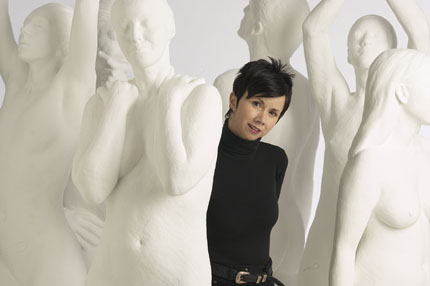 You moved to Mississippi to experience the blues. Why?
What attracted me to Mississippi and the blues was a feeling, the music, the authenticity, the humility and the raw talent of the musicians in places where they lived. It matched what was going on inside of me at the time, and it will always be there. It's the highs and the lows. Blues is not just about feeling down. It's also feeling joy. Blues music makes me feel everything.
Who are some of the more notable musicians you have lifecasted?
All the musicians that I've casted are so precious to me. They left the most human and unique recording, which is of their human face. We will be able to see what they looked like for future generations and to remember who they were. I went to R.L. Burnside's home, in Holly Springs, Mississippi, to lifecast his face. This is after R.L. had a heart attack and was recovering – he was doing really well. I lifecasted him in his kitchen.
When I took the materials off his face, he went to clean up and he said, "I feel rejuvenated. I feel like a snake. I shed my skin. You took something off of me." It felt good to him. Many of the musicians feel the same way. After, we sat around and he told stories, jokes and played music – it was a really terrific time.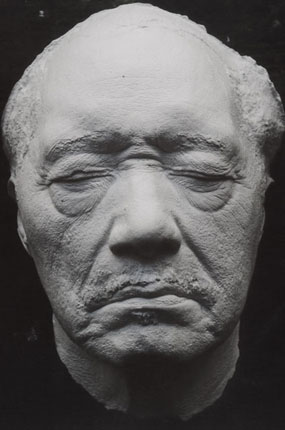 What I didn't mention is that Sharon McConnell-Dickerson is blind. She suffers from a degenerative eye disease called Uveitis. After she lost her ability to see, she discovered a new ability in art. Technically, she's never fully seen her own work.
When I woke up in Chicago visually impaired, I was shocked. I woke up and it was like a heavy fog had set in. There wasn't any warning that I had any condition with my eyes. I just woke up and it was like a veil between me and the world. I had to some how get it together. Obviously, shock had set in and then survival. What am I going to do? What am I going to do? I just did it.
Before she lost her ability to see, over 25 years ago, she wasn't an artist. In fact, she worked in corporate and private jets as a flight attendant and cook. She flew with executives and famous people such as: George and Barbara Bush, Donald and Ivana Trump, Al Haig, Henry Kissinger, and others.
It was a really hard morning. I had to feel around for my shoes.  I remember going downstairs to the lobby pretending to read a newspaper. I knew if I caught eye of someone, and didn't respond, I may be found out. I was faking it pretty good. When they said, 'Good morning.' I would say 'Good morning.' and I followed them out. I couldn't see the plane, nevermind the tail number. I don't know how I made it that day on that plane.
What did the doctor say?
Later, I went to an opthamologist and I was told I had a degenerative eye disease that would lead to total blindness. They couldn't tell me when it would happen. They just said, 'You could lose your sight tomorrow. You could lose it 10 years from now. But you will lose it.' I did everything I could to prolong it. I tried drug therapy, surgeries, procedures… I didn't respond to anything. I've been working on the Cast of Blues project for 14 years now. I kept going through those surgeries and those drug treatments. This was a whole new chapter in my life. I was reengineering my life. Moving on and finding new ability. The music and the musicians, and the people that I've met, are keeping me going. It was a beautiful distraction.
How would you describe your vision now?
My central vision is completely gone. I have no sight out of my left eye. I have peripheral vision out of my right eye. Basically, I have light perception. If there's a ray of sunlight coming from a window, I can tell that it's sunny outside. I'm very light sensitive. I see dark but when I'm outside all I see is white.
What was your art background before you lost your vision?
I had no art background, before I lost my sight. It was a friend that introduced me to sculpting. He came to my home and brought me a lump of clay, some tools and left me alone. Three hours later, I had formed what was a self portrait of myself.  The clay transformed me. It gave me inspiration that I can do something. That experience made me feel something. I forgot about my disability or different ability. I felt new ability. I was like, 'this is what I want to do. I want to learn how to sculpt.' I was so proud of what I had done. As I look at it today, it's beautiful to me. It is so raw and marks the beginning of my journey.  It is perfectly imperfect.
You've created this historically important art for the world to see – except, you can't see it. What's in it for you?
Some might think that I don't fully experience my own art because I can't see. Sculpting, in my method of molding and casting, is totally tactile. You have to feel the form, you don't need eyes to do that. They certainly help. You feel the form, seek the form, and have the connection with the material that you're working with.
Is sculpting a way you access a lost sense?
The lifecast mask doesn't just capture the muscles, the bone, the flesh, the pores – it captures the spirit. There's an energy. I've been in a room with all 52 masks surrounding me. It was very moving. It was the first time I was there by myself in the room with all of them and I just sobbed. I felt them all.  And many of them in my collection are deceased, and there I was remembering them all. They all seemed to be having these conversations – it was surreal.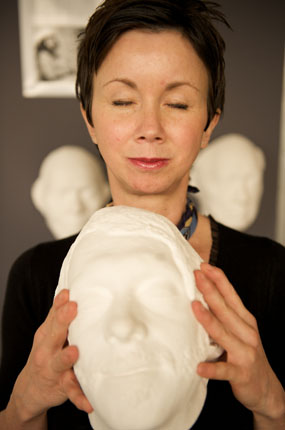 Tell me about the book
After 14 years of working on this project, and having documented so much over the years, I decided to publish the writings and stories in one collection. It's not just stories of the castings, but the years of friendship that I had with some of the musicians until their death. The book is titled, "A Cast of Blues: Images and the Stories Behind the Masks."
The book, "A Cast of Blues," will include 200 pages of stories and photographs of Sharon's lifecasts collection. Like a good blues record, it will measure 12″x12″ (the size of an album), with an embossed image of one of the masks. 
This collection of lifecasts is an historic collection. It's one of a kind. There are many exciting images, photos, films and books that have been written about the blues, but there's only one lifecast. It's the only three-dimensional image of the blues we are left with.
Watch the trailer for the upcoming documentary about Sharon McConnel-Dickerson titled, "Blind Faith."
Listen to some of the songs inspired by Sharon's work on Spotify.