Creative Babble is temporarily leaving the world of advertising. Today, we're talking about comic books that have crossed multiple dimensions – from paper to films.
Joe Stuber,  host and creator of the podcast Comic Book Central, interviews actors, writers, producers and directors who have brought comic books to life. This month, Comic Book Central is celebrating it's first year. Do yourself a favor. Download the anniversary special. It's a great way to catch up.
Comic Book Central  is the real deal. Trust me, you don't have to be a comic geek to enjoy it.  If you've watched a blockbuster super-hero film, this podcast is for you. It's not your typical 13-year-old kid, sitting in his basement, pushing up his glasses kind of podcast. In fact, some have compared Comic Book Central  with Inside the Actor's Studio for comic book based movies.
Some have compared Comic Book Central  with Inside the Actor's Studio for comic book based movies.
He knows trivial things most people have forgotten – including some of the legends he interviews. My favorite part of each show is when he asks the guests a question they've never been asked before.  Their tone immediately changes when they suddenly realize that this isn't the typical interview. Everyone who's been on the show, from the original Hulk, Catwoman, and Smallville's Lex Luthor, are caught off guard by how much Joe Stuber knows about them.
His first guest, comic book legend Stan Lee, set the standard for the podcast. "I didn't have an audience. I was in zero countries. He didn't know me from Adam. He didn't have to do anything for a podcast that was starting out. " And Stan Lee kept his word. So, how does Joe manage to book such big name guests? Joe says, "You're calling and asking guests to come on your show – you can't be fanboy. You gotta act like you've been there before."
With Marvel announcing their movie line-up through 2019, Comic Book Central  is not going to run out of material any time soon. Joe says, "Hollywood producers are always scrambling looking for the next big script. It's already there. They have 75 years full of these stories. You're never going to run out material. It's all there, already storyboarded."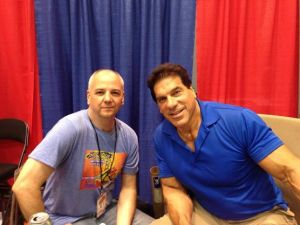 A lot of big names have said yes to be on the show but Joe wants to keep his lips sealed until he actually records it. Make sure to follow Comic Book Central on iTunes, Facebook and Twitter. You just never know who may show up in the lair.