The idea for Chocolateria Piá came from the creative agency, Matriz and was produced by Santa Transmedia, in Brazil. The idea is simple; Piá uses real chocolate, not powder.
I was struck by the beautiful lighting, the deep tones and the brilliant use of food photography. You always hear about food photographers using mashed potatoes in place of ice cream, glue posing as milk and all sorts of visual trickery. What are we seeing here? They wouldn't use a material as volatile as chocolate, would they? And, where did they find a chocolate sculptor? I had to learn more. I asked the director, Pedro Mahfuz, to tell me the secrets behind Chocolateria Piá
.
Working with food, especially chocolate, must be very difficult. Did you end up using real chocolate?
The chocolate was real. It really wasn't difficult to work with– unless you're on a diet. Obviously, we were worried that the chocolate would melt with the heat of the lights. We had fans, on set, to slow down the melting process.
We had the shots planned ahead of time. We ended up using three blocks of chocolate – in different stages of completion. It would have taken a lot longer to shoot, if the artist sculpted the block from start to finish.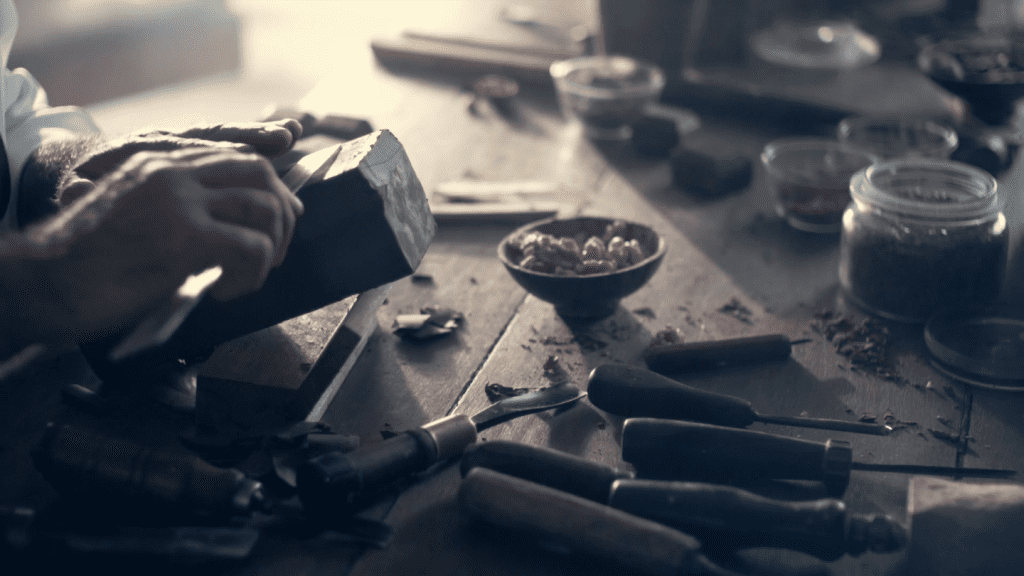 Where did you find the chocolate sculptor?
Chocolateria Piá uses real chocolate. The main challenge was to find an artist who specializes in sculptures and also works with chocolate. We found him Gramado, Rio Grande do Sul, Brazil. He's an artist that works with chocolate as a raw material. After finding him, we researched which tools he would use. It was difficult for me to plan out a shot, if I didn't even know what the man is going to use.
The storyboard is really fleshed out. How did you take this idea to the next level?
After getting familiarized with his work, I could start working on planning the film. We had a very well planned pre-production. I made my own shooting boards so I could visualize the setups. Then, I showed the agency a commercial with a cobbler working with shoes without ever showing his face. I also sent them an image of a room with the light coming from a single window. Once they saw that image, it clicked. They wanted to show a product made with care. They said they wanted the scene to look like a delicatessen. I sat down with Eric Pautz, the art director, and he sketched out the storyboards. His work is amazing. The storyboards are also a tool to communicate to the crew.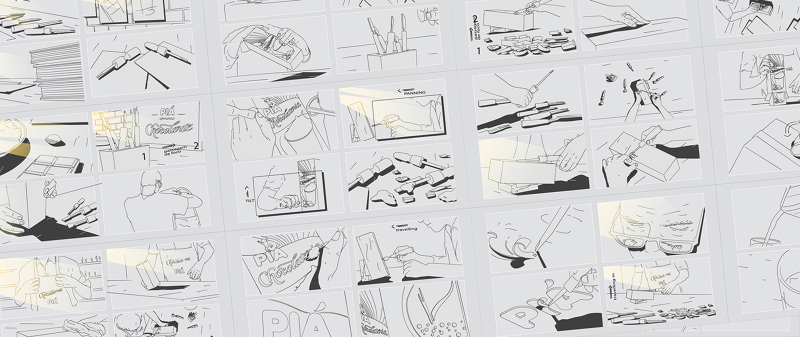 Why did you choose such dark tones?
The photography was meant to create a mood of beauty and intimacy. We wanted to stay away from the typical advertising lighting, which is very bright and low contrast.
We had this window on the right but we never used the natural light. We planned to shoot all day long, so we had to control the light in order to maintain continuity. In fact, we ended up shooting for 19 hours. We used fog to make the light dense. It was so thick, you could almost grab it.
What was it like going from assistant director to directing your own projects?
I started directing about 2-3 years ago, before being picked up by Santa Transmedia. The company has a very creative and collaborative culture. We have a strong team of designers and artist and the work is reflecting that. It's a real pleasure working here.
Before that, I was an assistant director. That gave me the experience to start doing it on my own. I've always wanted to direct. It's not all about having the movie in your head. You have to know how to talk to people and bring out their best.
What are you working on now?
We are putting together a very beautiful film, for a vacation resort, with a completely different mood. It's stylistically similar to the film Tree of Life. We have people out enjoying nature, climbing trees, playing around – It's going to be very beautiful. [update] watch Pedro's latest video
Santa Transmedia is producing amazing work these days. I plan to feature several of their artists in an upcoming Creative Babble feature.
Make sure to follow us on Facebook and Twitter so you won't miss a thing.