FRITANGA
Rafael Burgos has worked as a production designer on films like Avatar, Transformers and Thor. However, these days, you won't find him roaming the streets of Hollywood. You'll most likely bump into him in the markets of his home country of Nicaragua.
You may wonder– why the drastic change in scenery? Rafael is taking care of his grandmother. While in Nicaragua, he's also teaching art and reinvigorating an art scene that's nearly extinct in this war-torn country.
His latest project, Fritanga, is a graphic novel about zombies. However, Fritanga is more than another mindless zombie tale. It's a political statement on what he considers a third-world public health and sanitation crisis.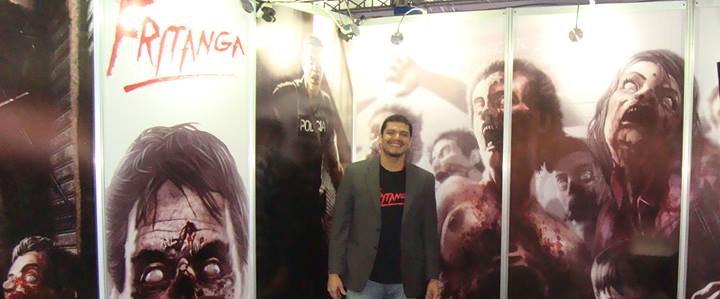 Why does the world need another zombie graphic novel, movie or TV show?
Unfortunately, the zombie's meaning has lost its essence. To me, zombies are much more than blood and gore. Zombie force people to unite in order to survive. Perhaps a  zombie outbreak would be necessary (at least in the form of a graphic novel) for us to wake up and stop eating in filth until we ultimately meet our doom.
That's why I decided to do Fritanga.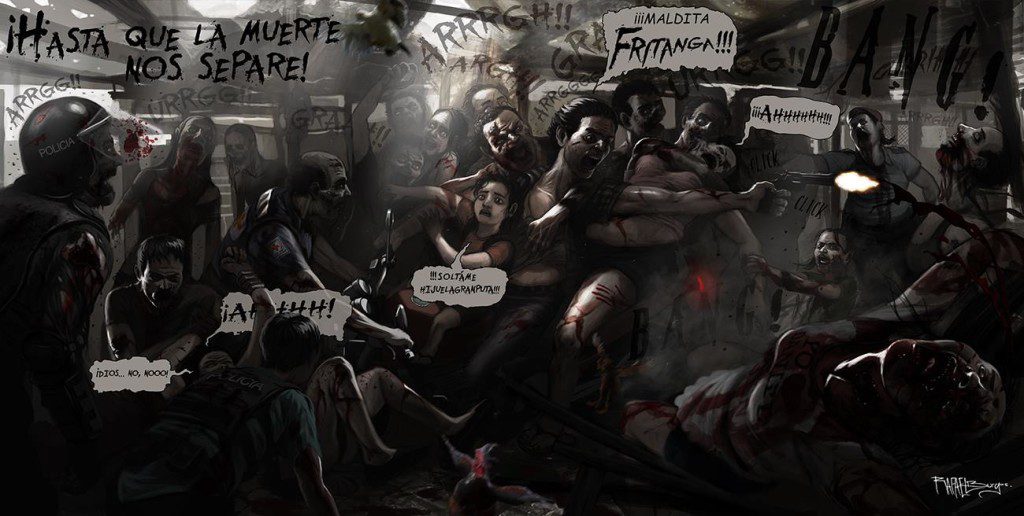 How did you come up with the idea for Fritanga?
There's a little fritanga store (Nicaraguan street food) that's around the corner from my hood. Being raised over in (the United States) you get a little sissified about people touching your food. Nobody wants people touching their food.
I remember one day I wanted to eat tostones con queso frito (plantains with fried cheese) and the lady who worked there grabbed las tajada (the slice of ripe banana) with her hand, she put it in the bag, grabbed the cheese and threw that in the bag, she grabbed the salad with the same hand; then I gave her my money and she wiped her hand and  she mixed it all up.  I was like 'what the hell?' I told the lady, "Do you mind cleaning your hand?'  Dude she went all Nica on me.
Then there's a problem here where people are stealing horses. A horse down here is like a  car. People are breaking into farms and chopping up horses in the middle of the property and they're selling la carne (the meat) to the markets in Central America and using it for fritanga food.
I was thinking one day, this shit is going to explode down here. There's going to be a virus. And then I started thinking about it and I came to the conclusion that I'm doing Fritanga. The sanitation here is horrible. It's really, really bad. I don't know how people haven't had a serious outbreak down here.
I put all that to work and I came up with this great story.
What's the art community like in Nicaragua?
The level of artistry is not there yet so it's not like I could really call for a publicist here. I have to go solo on this. It's taking so long for me to push it out because I'm doing everything by myself: I'm doing the panels, I'm designing the fonts, I'm writing the story, I'm digitally painting everything.
There are no novels in Nicaragua. There are a couple of kids who are trying but there's no hardcore colored glossy page story.
I've invested 2 and a half years on Fritanga. It's 180 blown out color pages. I follow two stories consisting of 14 characters. One part takes place at ground zero of the outbreak in El Mercado Oriental (the market). The market is burning and they have to get out. Another is the story of survivors in a pulperia (a little home store).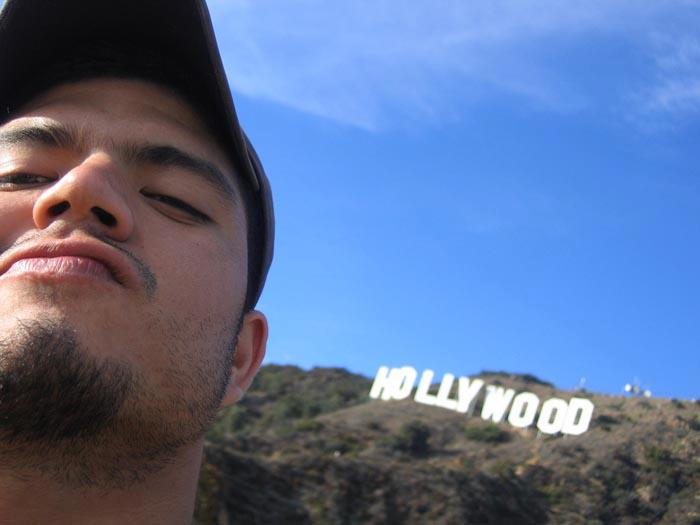 What was Hollywood like?
Oscar award winning production designer Rick Carter saw me give my oral presentation at the American Film Institute, and the guy was like, "dude you're awesome." I didn't hear from him for a while.
I remember one day while working at Starbucks, I was throwing out the garbage in this alleyway and some asshole didn't tie the bag well enough and all the coffee poured all over my work pants.
Two minutes later Rick Carter calls and says, "What are you doing?" I said, "I'm here at Starbucks." He said "Come work with me on Avatar." And I said, "What's Avatar?" He said, "Don't worry, you're going to love it."
Eventually, I was costume illustrator for Transformers 2 and 3. I worked on Twilight, Star Trek, a Christmas Carol with Jim Carrey. I've done music videos for The Game, Dr. Dre, Kanye West and Snoop Dogg. I still get called to do pitch illustration for films.
Rafael plans to finish Fritanga and return to working on films and video games. We'll continue this conversation when Fritanga is complete later on this year.